NewDANCEfest is a multidimensional festival, which brings artists at various levels of the profession together. Opportunities are provided for Established Choreographers, Emerging Choreographers and Dancers to create and study in a rich, rewarding and artistic environment. Choreographers are given time and space to create new works, and Dancers are given professional training and the experience of mentoring with some of the best professionals in the dance world. NewDANCEfest will provide daily technique classes in a variety of styles, choreography seminars, discussion forums, critique sessions, mentorship opportunities, informal showings and performances. The festival will be located in the beautiful city of Rochester, Michigan with classes for the Intermediate/Advanced Division (ages 10-15) held on the campus of Oakland University. Classes for the Advanced/Professional Division (ages 16 and up) will be held at The School of Eisenhower Dance Detroit located at 103 South Street. Housing for all participants is available on the Campus of Oakland University for an additional cost.
The EDD Intensive
August 5-10, 2019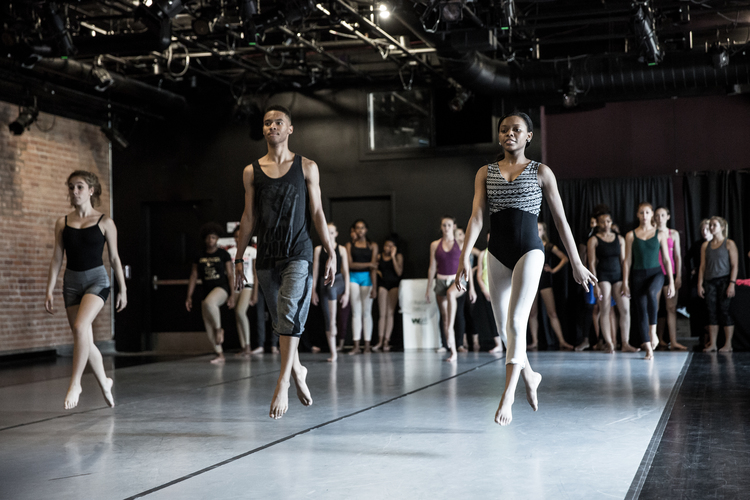 The Eisenhower Dance Detroit Intensive is back at the Detroit Opera House once again in 2019! Join us August 5-10 for a week of technique and Eisenhower Dance Detroit repertory. Classes are taught by your favorite professionals from EDD and are geared toward dancers looking for a fun contemporary based intensive at the end of their summer. Students will receive a full day of dance including ballet technique, modern technique, contemporary partnering, jazz and Eisenhower Dance Detroit repertory. The week will culminate in a final performance free to all family and friends! Join us on Facebook to stay up to date on announcements, teachers and more.
Ages 14+
$375
**Register before June 15th to receive $50
Informal performance at the Opera House on August 10th.
Daily Schedule- (Subject to change)
9:00-10:30 Ballet
10:30-12:00 Jazz/Contemporary Partnering
12:00-1:00 Lunch
1:00-2:30 Modern
2:30-4:00 Repertory Rehearsal
Follow @EDDintensiveDOH on Facebook to stay up to date on registration announcements and much more!
Princess and Pirate Dance Camp
Summer fun for little ones! This interactive and exciting dance camp is for ages 3 - 6 years (must be potty trained) and will include ballet, jazz, art, creative movement, and all things princess and pirate! Parents are invited to an informal performance on the last day of camp. This camp will be offered at all three School of Eisenhower Dance Detroit locations and is open to all students ages 3-6.
Students can wear any dance attire with bare feet. Ballet and jazz shoes are optional.
BIRMINGHAM - located at 2155 Cole Street Birmingham, MI 48009 Questions? Contact Jen Koralewski koralewski@eisenhowerdance.org
June 24-28, 2019 9:00am - 12:00pm
July 22-26, 2019 9:00am - 12:00pm
August 12-16, 2019 9:00am - 12:00pm
ROCHESTER- located at 103 South Street Rochester, MI 48307 Questions? Contact Meghann Hazelton hazelton@eisenhowerdance.org
July 29-August 2, 2019 9:00am - 12:00 pm
DETROIT COUNTRY DAY SCHOOL - Questions? Contact Amanda Rea-Burnett rea@eisenhowerdance.org
July 8-12, 2019 9:00am - 12:00pm
August 5-9, 2019 9:00am - 12:00 pm
$190 ( $150 if registered by June 1st) Non-refundable
ON-GOING SUMMER CLASSES
EDC offers a variety of summer classes: Birmingham will run a full 9 weeks from June 19 - August 16 . Rochester will run two 3-week sessions from June 18 - July 5 and July 23 - August 9. Click on the links below for complete class schedules and more information.